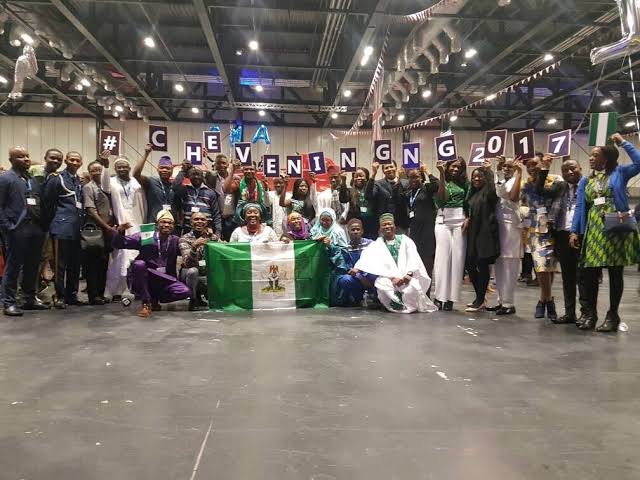 As the Chevening UK Scholarship 2021 nears the November 3, 12noon deadline, some scholars of the programme have put together tips on how applicants can increase their chances of winning the award, which opened for application September 3, 2021.
Ugochukwu Stephen Ugwudi, who is currently taking MSc in Entrepreneurship and Innovation at the University of Sussex under the Chevening UK Scholarship programme is the lead in the organized remote mentoring programme that is helping over 200 young Africans through applications for the renowned award.
In a chat, he expressed enthusiasm about the leverage and impact that the Chevening programme would have on his career.
He said: "it would afford me the opportunity to study for an MSc program in one of the world's most prestigious universities in a country considered to be among the most diverse in term of multi cultural population. Being a fully sponsored scholarship program, I will have the opportunity to focus more on my studies and not have any reason to worry because the scholarship provides me with stipend to take care of my socio-economic needs", Stephen Ugwudi said.
He disclosed that: "this is an opportunity I have been longing for; to progress my career. To connect with world class experts, stakeholders in various spheres of life.
"Chevening alumni network has over 53,000 members, for me this is a community with the most diverse group of people from over 160 countries. I believe I can make reasonable connection, build strategic partnership and cross pollinate grass root ideas with both peers and experts. These will further help me to achieve my set goals as well as contribute to national development by building cross border initiatives."
Leadership Essay
Another Chevening scholar, Terhemen Agabo, an economist and social researcher based in Nigeria, now studying MA Development Economics at the University of Sussex, Brighton, shared tips on writing the Chevening leadership esssay during one of the mentoring session
In giving a good account of leadership experience, Agabo pointed out thus:
"Points to note while Developing your essay.
"Chevening wants you to list instances where you demonstrated leadership. An ideal example will have you show how you helped to solve a problem or achieve a goal for your team and the impact of your leadership action.
"Follow the STAR approach: A great friend used to say "never change the winning team", the STAR approach to writing your Chevening essays is very effective. It makes your essays concise and makes a good impression of you before the reviewers. Please follow the STAR approach as it would help you manage your essay word count too.
"It is Good to List many Leadership Examples: Imagine that as a reviewer I am tasked to choose one essay out of ten and all essays were well written. I would probably consider the person who mentioned four examples of leadership ahead of the one that mentioned only two.
"Yes its true that you only have 500 words to cover in your leadership essay but you can list up to 5 examples. In my essay I mentioned five, I elaborated on 3 and wrote two lines for the remaining two.
"Every sentence should be a hit: Yes friends, Chevening is very competitive. While writing your leadership essay, make sure every sentence conveys a strong message. Avoid repeating points already mentioned as your word count is limited.
"Some leadership Examples may stand out So if you take a look at the score guide for Chevening interviews. The criteria for scoring the highest in your leadership section highlights that candidate holds a leadership position in a professional capacity including voluntary organisation (NGO, University ,society etc) provides strong evidence that they have shaped opinion through debating, blogging, social media or policy work.
"As you can see, leadership roles such as leading in school or in a community matters and you need to show that.
"Brew your essays over a long time: So, as you know Chevening is very competitive and often shocks many competent young leaders. So if you think you will write your essays in ten days and succeed, I will say you can but your chances are slim as preparation takes time. And the best prepared candidate takes weeks and some months to write their essays.
"Tell a fine and touching story: Yes, Chevening scholars are heroes. So, tell a story of a heroic leader. Use touching words e.g. "My forum saved 40 orphan children from dropping out of school". It will increase your chances of beign chosen.
"Facts: Your leadership essay should be very specific to mention names of places, persons, programs that played out. No room for ambiguity.
"I began my leadership essay with a quote: Progress occurs when courageous, skillful leaders seize the opportunity to change things for the better- Harry S. Trueman.
"Then followed by an example in the next paragraph: As a teacher in 2017, I organized a forum in response to the high number of secondary school students that skipped school activities in Jalingo town, Taraba state in Nigeria. The forum focused on students from Government schools, and sought to provide the missing motivation that made students skip classes.
"I arranged for motivational talks, bringing in speakers from diverse backgrounds to speak to the students. The students were taught different skills to nurture their creativity including poem writing. 800 students benefited from the motivation that the forum provided.
"Through feedback it was recorded that over 400 students improved their participation in academic activities at school after the forum. Currently, 20 of the participants under my mentorship have proceeded to higher institutions.
"Mentioned three more examples then conclude thus: "A Chevening scholarship will strengthen my leadership capability and enable me exert a positive influence over a greater number of young and vulnerable Nigerians", Terhemen Agabo, Chevening 2020 scholar advised.
While responding to a question from one of the participants in the mentorship session, which sought to know if applicant who has a record of social initiative stands a higher chance of qualifying, Agbo posited that: "No, I wouldn't say so. This is because the Chevening Scholarship is judged on leadership, networking, academic and career potential as well as on potential impact on society. Social impact, scientific impact and other kinds of impact matter equally.
"Hence, a scientist who has never left the lab can also win the Scholarship judging from the impact of his laboratory activities.
"During my application a friend told me not to bother if I didn't own an NGO. I wasn't discouraged and I am here today. So whatever it is that you do to move society forward you are good for a Chevening award."
Networking Essay
Another Chevening 2020 scholar, Hawa a legal practitioner and founder of Westwood Law, an Abuja firm that speciises in human rights law, election petitions and corporate law advised 2021 Chevening Award applicants on writing compelling networking essay.
Hawa, also a consultant at Waiza Rafique Advocates and Legal Consultants (WRALC), Lahore- Pakistan, emphasised that many people "many people find this part of the Chevening Essays to be the most difficult, ambiguous and tasking".
Hawa, who had scaled through the application a year ago and now selected to study a one year LLM programme in International Development Law & Human Rights at the University of Warwick, United Kingdom suite that: "You don't need to define what networking means to you here.
"Also, try to take a timeline, it makes the story more sequential and captivating to the reader.
"In this essay area, also try and give submissions using at least three distinct examples in three separate paragraphs.
"These examples do not have to relate to your discipline or subject area.
"What you must try to do here, is to show how you establish relationships with preferably important people, and how you nurture such relationships and ultimately, went ahead to leverage these relationships to find solutions to problems within your own context.
"In each paragraph, for the networking essay, you can do what I call the "modified STAR approach.
"Preferably, the easiest way to open the paragraph is to start by a conference/meeting/community engagement/dinner/social gathering you once attended.
"State the name of the meeting, the date, the location and possibly the purpose of the gathering. Be explicit!
"Then try to convince the reader of how you met an important or influential person at that meeting and what kind of discussions or engagements you had.
"Again, mention the name of the person, what his/her status/portfolio was at that time and what position the person holds now. Try to also convince the reader that you are still in touch with this person.
"Now, try to convince the reader how you used this contact to get access to possibly another very important personality, or how that contact was able to catapult you into a space that was hitherto not possible.
"Again, you must show that the progress you made impacted a group of people positively, whether directly or indirectly.
"For the second paragraph, you can open it by stating some professional associations/fraternity/political affiliations/community groups you belong to. You can also embed this in any of the three paragraphs. It is not cast in stone.
"Chevening is looking for persons who already have a trajectory. That is, have strong networks, know important people, have valuable contacts whether politically or professionally. Just think about it as though you are the Manager of Real Madrid football club and you are looking for players to buy in the transfer market.
"Chevening wants super stars.
"Convince them that you are one by linking yourself to some strong associations.
"Try to convince the reader of how you leveraged such associations you belonged to, to unlock opportunities to meet people who mattered in any discipline. Then, drive your points again of how you leveraged the contacts to bring change or solve a problem.
"Repeat the drill for the third paragraph
"To score the maximum marks in the Networking essay area, it is strategic to include a brief 4th paragraph.
"This paragraph will briefly state how you hope to engage the Chevening network in the future and this has to align with your long term goals which you will elaborate in the 4th section of the Chevening essays (Career goals).
"Me personally, the example I used was…. I went to a paralegal conference in Abuja and we were saddled with the responsibility of drafting a legal framework for paralegals….. I met Mrs Aimee Ongeso from Kenya in that Conference….. through this connection I made I became part of the Global Legal Empowerment Network that gives access to justice at grass roots across the globe.
"Notice how i made connection at the conference.
"For the 4th paragraph you can mention how you connected with Chevening scholars like Hawa and Stephen via telegram
"Mention names of scholars and alumni in your essays.
"It shows you are already engaging chevening community".
UK University Choices
Arafa Mahayadine Salah a Chevening scholar from Chad who holds a masters degree in International Business Law and another in Expertise and Taxes advice work at The National Water Fund as Tax and Legal advisor.
Salah, who is now pursuing a LLM International Human Rights Law at the University of Sussex dealt with choosing a UK University in the 20221 Chevening Scholarship Award.
" 1) First of all choose wisely the course you want to do in the UK. It must be coherent with your career plan and with your background!
" 2) Chevening offers the possibility to applicants to choose 3 different courses in the same university or 3 same courses in 3 different universities (highly recommended). Take a deep look at universities ranks,modules, entry requirements, city of location etc. As all of us want to study in the highly ranked universities, people must be realistic in their choices and pick universities that are likely to accept them.
"British higher education is among the best in the world so no matter the university rank, you can be sure that the education will be excellent. Also, be aware that you cannot change your university choices after the interview. So you have until mid February-March to make the right choices.
" 3) In your essay, start by putting an emphasy on why you choose this specific area for your study and what your degree will help you to accomplish in your country. After that explain your university choices one by one by specifying what you particularly liked and what makes these universities special for you.
"Last tip: go to universities website, look at student's YouTube channels or personal websites, it can help you in choosing wisely.
"I think so because for my course for example they've asked a background in law or related fields. But sometimes they study case by case especially when the student doesn't have the background but have experience in the same field
When probed about choosing a university that isn't listed among Chevening partners, Salah said: "chosing a university that does not have partnership with chevening doesn't affect your application".
As an addition to Salah's points, Steven Ugothe convener of the mentorship sessions for 2021 Chevening Scholarship Award applicants added that: "although you are at liberty to choose any university.
"It is advisable you choose a partner university (this you can see on Chevening website). This is so because in the event that the non Chevening partner university that you choose refuses to pay the 20% contribution to the programme then it will be paid by you", he added.
On the possibility of being accepted by all 3 university choices, Salah said: "Yes it's possible. I have been accepted in my 3 universities. If this happens, you're suppose to choose your first choice. But if you want to go with your 2nd or third choice you will have the obligation to explain to chevening why and have a valuable reason.
Giving her thoughts on what makes a compelling essay, she said:
"Essays: Be yourself! Don't copy another scholar's essay and be coherent. Leadership and influence: give concrete examples of your leadership skills in different areas (school, work, neighborhood or family).
"Before my application I had the wrong idea that chevening was looking for people who already accomplished great things like creating associations or having a leadership position. Chevening is also looking for potential leaders and people who serve others in their own small way. I gave example on how I've helped some student in university with some modules, how I've convinced my uncle to let my niece go to school etc. Your achievement can seem small to you but chevening will still consider it.
"Networking: again give examples of how you built your network and how your networking skills advantage you in personal and professional life.
"Studying in the UK: I think that this is the most important part of the essays. Choose wisely your course and your universities (take a look at universities rank, modules, entry requirements). Explain why you choose these universities and why they're your first second or third choice.
"Career Plan: in this part you need to make a link between your background, your future career, UK work in your country and your course choice. Explain your short term, mid term and long term goal that your chosen course will enable you to reach."
Career Goals Essay
Yusuf has spent considerable years in social works, a community development practitioner, who is passionate about leveraging development projects to influence social change within the domain of security, governance, inequalities, poverty and development advised on writing the career goals essay.
Armed with a Bachelor's degree in Geography, with first class honours from Ahmadu Bello University, Yusuf was awarded the Chevening scholarship to study a masters program in Conflict, Statebuilding and Development at the University of Birmingham.
Yusuf advised thus: " 1. Take as much time as you can to digest the essay prompt. If possible, take a whole day until you're certain to be up for the task. This is the most important essay you'll write as the return on investment for the UK is dependent on it.
"Next, utilize the scoreguide below in every step of the essay writing.
" 2. Essay Scoreguide:
" a. Applicant is at senior level in his/her field.
" b. Potentials to achieve ambitious but realistic innovative goals in his/her chosen sector.
" c. Demonstrated how the Chevening program will help develop the chosen sector.
" d. Demonstrates a strong understanding of the UK priorities in the country.
" e. Shows how the Chevening Scholarship would increase his/her ability to have influence and enable change in his/her work and home country.
Do not fret if you're not in a senior position yet, he said.
"One way to solve that problem is to envision yourself as a highly profiled individual in the future, and then present yourself that way in the essay
"You can fulfil 2b, 2c, 2d and 2e with ease by leveraging your imagination and also studying the UKDFID (Now UKFCDO) projects in your country.
"Then connect your imagination to the problems and/or UK projects in your country
"3. Essay Structure
Now that you have an understanding of the essay prompt, you should then proceed with drafting your essay in a very organized manner.
"Like the usual academic essays we write in school, your Career Plan essay should be organized in three distinct structure:
a. Introduction
b. Body
c. Conclusion
"3a. Introduction
It is very important that you hook the reviewer with an engaging opening—most preferably a problem statement. Try to be concise and straightforward with what you want. Take my example below for instance:
"Problem statement in BOLD TEXT (aim for 50 to 70 words)
"I seek to develop a career that will ultimately position me to influence policy and advisory services necessary to foster peace, state-building and development in Nigeria. Conflict and insecurity is currently a problem that can reverse decades of development in the country. It has disrupted local and foreign trades, destroyed infrastructures, halted educational development of displaced youths and children, and has subjected millions of Nigerians to extreme poverty – 65 words.
"3b Body
"The bulk of the Chevening investment is directed to this part of your essay. Therefore, you should consider this section as a business deal where you pitch yourself as a long term viable investment.
"It should be clear from your essay what the UK stands to gain.
"Question: are they investing in a student who wants to explore the UK or an internationl trade expert?
"As you write this part of your essay, endeavour to work closely with the essay prompt and score guide highlight as 1&2 above.
"The structure of the body should be classified in 3 paragraphs.
1. Short term plan (2 years post-study)
2. Mid term plan (2-5 years)
3. Long term plan (5 years and above)
"For the three parts of the BODY, it is highly recommended that you use the SMART Approach.
S-Specific
M-Measurable
A-Actionable
R-Realistic
T-Time bound
"Avoid a statement that looks like this: I plan to reduce unemployment and empower youths. Or, I will contribute by working with many youths and mentoring them, or:
"I will work to address gender inequalities in my country and become a youth minister in future, or:
"I will institute public health programmes to address the worrisome spate of maternal and child mortality in Mozambique.
"I'll show you what the SMART Approach looks like using a snippet from my essay
"Ensure to use proper signage when writing each paragraph e.g.
"Use openings like: In the short term (or Upon completion of my masters) I intend to…
"In the mid-term (or 5 years down the line) I intend to…
"In the long term (or going forward) I aspire to…..
"You may choose to adopt a different format but make your plans clear
"Short Term Plan: Using SMART approach
"In the short-term, I envisage working with conflict-oriented organizations like ActionAid International Nigeria as a Programme Coordinator, where I will seize the opportunity to leverage the skills gained from my study, to practice conflict policy planning, advocacy, and peacebuilding projects especially in the North-east region of Nigeria, with the aim to strengthen the resilience of at least 2,000 vulnerable youths against extremism recruitment over 2 years.
"Specific- Work with ActionAid as a Program Officer
"Measureable- 2,000 vulnerable youths
"Actionable- presence of required skill-set to actualize the project.
"Realistic- 1,000 youths per year, approximately 3 youths per day.
"Time bound- 2 years…
"Although, this example helped me through the review stage but I will advise that you use shorter sentences. Mine can be killing actually.
Yusuf gave more tips: "Try to be as ambitious as you can, but do not exaggerate in this part of the essay. My final example presented me as someone who will be leading as a Rapporteur at UN meetings.
"Bottom line, dream as wide as you can but make sure you tell them how you'll get there.
"3c. Conclusion
"Now that all has been said, you should give an overview that captures how your plan fits with what the UK is doing in your country, and how you'll be a useful tool to effect a positive change THROUGH THE CHEVENING SCHOLARSHIP.
"Here's the conclusion I used in my own essay: Overall, my training in the UK will equip me with the relevant skills needed to spearhead peace and development in Nigeria, by connecting to an invaluable network of resources and collaborations that will contribute to Nigeria's pursuit for improved economic growth and development, a major objective of the UK's DFID due to its significance in strengthening future bilateral affairs."
Yusuf explained further on his background experience and do of study.
"I studied Geography, worked as a computer operator in a Cyber cafe and I'm pursuing Conflict studies.
"So from my experience, you work experience doesn't have to match up with you chosen course. What is important is that you have identified a problem in your country, and that you're passionate about being a part of the solution to that problem. The only way you need to CONNECT the two is to present the Chevening scholarship as the bridge for you to achieving your goals.
"Forget your work experience and focus on how the obtainable skills from your program will propel you to reach the position you're aspiring for.
"One thing is that Chevening wants people who are ambitious and aspiring to lead regardless of the organizational structure. As a prospective Chevening scholar, it is okay to return and still work as an employee BUT at a higher level, probably a managerial role not an errand fellow.
"On the other hand, if you want to be independent, for instance a Founder of an NGO, it is still okay to present your plans that way.
"What Chevening look out for is your aspiration to rise above where you are—not for a selfish aim, but for the greater good of the society or the people your work with."
by Tobiloba Kolawole