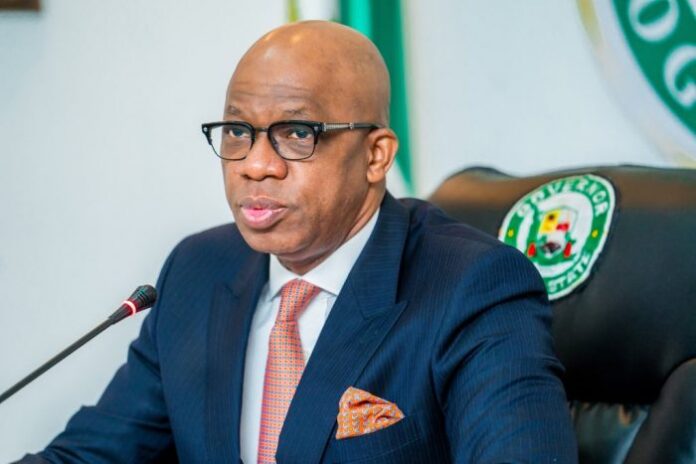 Ogun State Governor, Dapo Abiodun, Tuesday said his administration has constructed over 90 kilometres of road in the last 15 months, re-assuring the people of the state that his government would not inflict unnecessary pain on them in the course of executing projects.
"I want to assure the people of Ogun State that we will not inflict unnecessary pain on them. We have been careful not to impose pains on our people as regards all the projects we have done so far.
"Let me therefore appreciate our people and also plead with them to be patient with us, particularly those that have to bear some inconveniencies through uncompleted infrastructural works," the governor said.
Abiodun gave the reassurance while receiving the report from a committee set up to review projects and contracts awarded between 2009 and 2019 at his office in Oke-Mosan, Abeokuta.
He pleaded with those experiencing some difficulties as a result of the ongoing projects in the state to bear with his administration.
The governor added that work has commenced on various roads such as Kuto-Oke-Mosan; Panseke-Adigbe; Owode-Ilaro; Ejirin-Ijebu-Ode, while some other projects left uncompleted by the last administration have been completed.
Abiodun added that the era where the chief executive would singlehandedly award projects to contractors had gone, as government must have cleared and be sure of strategic allocation of resources before embarking on any project.
"We must be mindful of how we allocate resources now that resources are scarce and we hope to execute projects that have direct impact on the people," he said.
On the mandate of the committee, the governor explained that the committee was among other things to identify all outstanding significant projects in the past 10 years; determine levels of execution and quality of work done; and ascertain whether the process of contract was in line with due process.
The committee was also mandated to assess disbursement pattern in line with established process, then recommend any viable pathways for completion of projects as well as framework to ensure continuity between succeeding administrations with a view to entrenching accountability and responsibility in government.
While reiterating the resolve of the present administration to complete all projects that would bring good governance and impact meaningfully on the lives of the people, the governor thanked members of the committee for sparing their time and experience for the good of the state.
Speaking earlier, the Chairman of the committee, Adekunle Mokuolu, disclosed that 114 contracts valued at more than N349.376 billion was awarded with total payment of more than N130.735 billion, while a total amount for unpaid certificate of value for work done was more than N20.741 billion.
Mokuolu stated that more than N218.380 billion was needed to complete the projects, adding that contracts awarded in terms of percentage were 88 for works and infrastructure, one for agriculture, two for health, three for education, one for housing, two for commerce and industry, whlie the balance was taken up by the ministries, departments and agencies.
Idowu Sowunmi