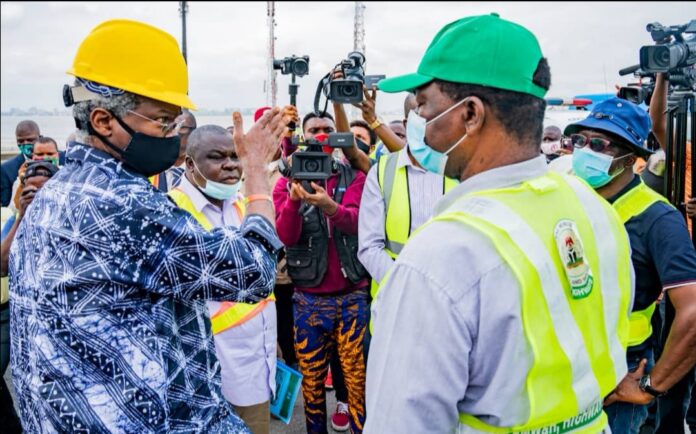 Minister of Works and Housing, Babatunde Raji Fashola, Tuesday said the on-going repair works on Third Mainland Bridge and other Federal Government projects in Lagos State were borne out of a long years of neglect by successive governments in Nigeria.
Speaking while inspecting repair works on Third Mainland Bridge on Day Four of the partial closure of the bridge, the minister said he's at the site to ascertain the status of the work done and the impact of the partial closure on traffic movement.
Accompanied by Lagos State Commissioner for Transportation, Frederic Oladeinde; Special Adviser to Lagos State Governor on Works and Infrastructure, Aramide Adeyoye; her counterpart in Transportation, Toyin Fayinka; South-west Federal Controller of Works, Adedamola Kuti; and other top government officials, Fashola noted that his visit was to lend support to his team of engineers and other crew, who had been on ground for about two weeks in preparation for the repair works.
Read ALSO…. Tinubu, Saraki mourn death of first Lawyer in Northern Nigeria
He added that his men had concluded their scientific laboratory works in Abuja before coming to Lagos for practical fieldwork to fix the worn out expansion joints and other maintenance works required to keep the 11.8 kilometre bridge in good shape.
"As you would have noticed, Eko Bridge is also undergoing repairs, likewise, Apapa, Oworonshoki, Apongbon.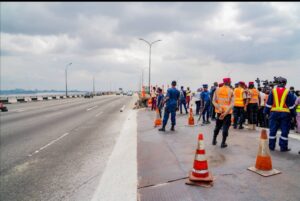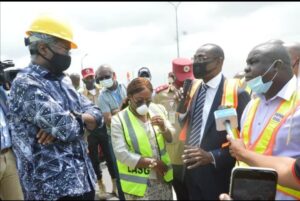 "We just completed Liverpool Bridge, Gbagada-Oworonshoki is on-going and many other bridges. This is as a result of many years of not working or maintaining them by successive governments.
"This government is, therefore, faced with the reality of repairing and maintaining all these bridges and other federal projects across the country for the safety and benefit of our people.
"I want to thank you sincerely for your level of cooperation so far, while I assure you that we will continue to collaborate to ensure there is less pressure on commuters as a result of this work," Fashola said.
The minister outlined other bridges with renovation work either completed or on-going as: Marine Bridge (Apapa); Kara Bridge (Lagos-Ibadan Expressway); Falomo Bridge (Lagos Island); Ojuelegba; Eko Bridge; Apongbon; and Obalende among others.
Read ALSO…. Update: AfDB – Independent panel clears Adesina of wrong doing, up re-election
While expressing happiness that the impact of the partial closure was not much on vehicular movement when he and his team inspected vehicular movement from Oworonshoki in-bound Lagos to Adekunle and Adeniji Adele end of Third Mainland Bridge, Fashola, a former Lagos State governor, ordered operatives of the Federal Safety Corps (FRSC), and Lagos State Traffic Management Authority (LASTMA) to immediately move away from the main bridge where construction work was currently ongoing to the alternative route areas where there's likely to be congestion, especially during the peak hours.
Fashola commended the Governor Babajide Sanwo-Olu-led Lagos State Government for effectively managing the situation through the rehabilitation of various alternative routes and provision of adequate traffic management officials.
He urged Lagosians to be calm as the Federal Government would work hard and collaborate with the Sanwo-Olu administration to ensure that the repair work does not extend beyond its stipulated period.
Earlier, Oladeinde, while briefing the minister on the traffic management strategy adopted to ensure free vehicular movement, disclosed that about 650 LASTMA personnel have been deployed by his ministry to support about 250 FRSC men on ground to direct traffic and ensure less congestion while the construction works last.
Oladeinde added that since just about 25 per cent of Third Mainland Bridge users are going to be affected, the state government, through the Ministry of Works and Infrastructure, has done palliative work to ensure alternative routes are accessible to ease congestion while the government has increased the BRT fleet plying Lagos Island corridor.
The commissioner also advised Lagosians to make use of the waterways by plying the various jetties in the metropolis to reduce travel time, noting that the state government in consideration of the likely increase in the use of water routes has provided improved safety guidelines and measures for ferry operators.
Read ALSO… Buhari names train stations after prominent Nigerians, Awolowo, Soyinka, Ekweume, others
While allaying the fears of residents over the partial closure of the bridge, the commissioner urged road users to cooperate with LASTMA and FRSC on the laid down traffic directives to minimise inconvenience in movement and ensure free flow of traffic.
Also speaking, Adeyoye reaffirmed that palliative works on several alternative routes provided for motorists have been completed, assuring that her ministry would keep on monitoring the work progress to identify other areas where rehabilitation works are necessary.
Idowu Sowunmi