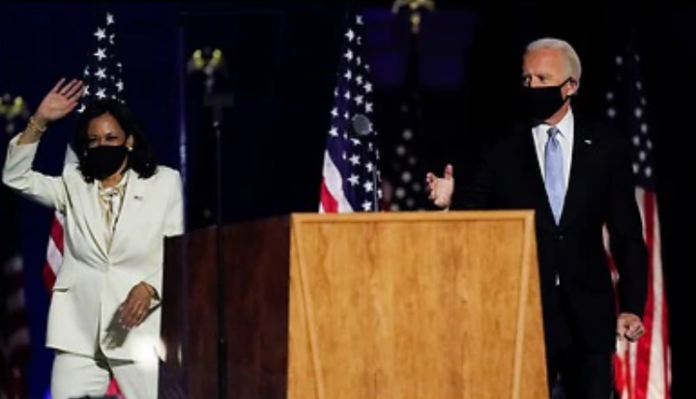 President Emmanuel Macron of France and many other world leaders have congratulated Joe Biden as the President-elect of the United States of America.
Macron, in a statement, said: "The Americans have chosen their President. Congratulations @JoeBiden and @KamalaHarris!
"We have a lot to do to overcome today's challenges. Let's work together!"
To President Muhammadu Buhari, Biden was being elected as the US President "at a time of uncertainty and fear in world affairs."
READ ALSO:
US President Elect Will Have Challenges No Incoming President Ever Has
Buhari said: "Your election is a significant reminder that democracy is the best form of government because it offers the people the opportunity to change their government by peaceful means.
"The most powerful group are not the politicians, but voters who can decide the fate of the politicians at the polling booth.
"The main fascination of democracy is the freedom of choice and the supremacy of the will of the people."
"Respect for the will of the people is the very reason why democracy remains the best form of government, despite its limitations from one polity to another, and from one society to another."
"I am thrilled by the fact that you are an experienced politician who had served as Congressman for 40 years and a Vice President for eight years. This is a remarkable track record that gives us hope that you will add value to the presidency and world affairs."
Buhari also noted that "with your election, we look forward to greater cooperation between Nigeria and the United States, especially at economic, diplomatic and political levels, including the war against terrorism."
On international affairs, Nigerian President urged Mr. Biden to "deploy your vast experience in tackling the negative consequences of nationalist politics on world affairs which have created divisions, conflicts and uncertainties."
The Nigerian leader also called on Biden "to introduce greater engagement with Africa on the basis of reciprocal respects and shared interests."
Ukranian President Volodymyr Zelensky, whose 2019 call with President Donald Trump sparked impeachment investigations, took to Twitter to congratulate President-elect and his running-mate, Kamala Harris.
According to him, "Congratulations to @JoeBiden @KamalaHarris! #Ukraine is optimistic about the future of the strategic partnership with the #UnitedStates. 🇺🇦 and 🇺🇸 have always collaborated on security, trade, investment, democracy, fight against corruption. Our friendship becomes only stronger!"
Also, President Cyril Ramaphosa of South Africa said: "We congratulate President-elect @JoeBiden and Vice President @KamalaHarris and the American people on your election. We look forward to working with you and deepening our bonds of friendship and cooperation."
On his part, President George Weah of Liberia said: "Congratulations to U.S.President-elect Joe Biden on his historic win. He assumes the leadership of the United States at a very challenging time for the country and the world as we all face a global health crisis. I urge all Americans to forge together in peace and unity.
"As the traditional ally of the United States, Liberia stands ready to further enhance and rekindle our long, historic and unique bilateral relations.
Congratulations!"
Speaker Nancy Pelosi, in a statement, described Biden-Harris' victory as historic.
"Today marks the dawning of a new day of hope for America. A record-shattering 75 million Americans cast their ballots to elect Joe Biden President of the United States – a historic victory that has handed Democrats a mandate for action.
"In President-elect Joe Biden, Americans elected a leader ready on Day One to finally begin to crush the coronavirus so we can safely reopen our economy and schools. In President-elect Biden, the American people delivered a mandate for lower health costs, a mandate for creating bigger paychecks by rebuilding America's infrastructure, and a mandate for cleaner government that works for the public interest, not the special interests. And in President-elect Biden, they have elected a unifier who values faith, family and community, and who will work tirelessly to heal our nation.
"President-elect Biden and Vice President-elect Harris won with a strong margin, and they will have a strong Democratic House Majority by their side. Working together, we have the opportunity to deliver extraordinary progress For The People," Pelosi said.
A former British Prime Minister Theresa May also wrote: "Congratulations @JoeBiden and @KamalaHarris. Your election marks a new chapter in the history of your country and in the special partnership between our two nations. #democracy The UK & US will always work together to defend our shared values."
Also commenting on the election, a former Secretary of State Hillary Clinton said: "The voters have spoken, and they have chosen @JoeBiden and @KamalaHarris to be our next president and vice president.
"It's a history-making ticket, a repudiation of Trump, and a new page for America.
"Thank you to everyone who helped make this happen. Onward, together."
A former deputy governor of Central Bank of Nigeria (CBN), Kingsley Moghalu, also wrote: "Congratulations to @JoeBiden and @KamalaHarris !
READ ALSO:
World Leaders Congratulate Biden, Harris After Beating Trump
"@JoeBiden is the 46th President of the United States! This is the will of the American people. Real democracies respect the will of the people and the institutions that uphold that will. Anyone else's opinion is irrelevant now. Americans themselves have spoken.
"In a democracy, no one should be bigger than the voters. America has held elections for 200 years. The Democrats were crushed when @HillaryClinton lost in 2016 and @realDonaldTrump won, but they accepted it. Now that Trump has lost and @JoeBiden won, the same must happen.
"If Trump had won, would the election have been "rigged" and ballots sweepingly described as "illegal"? The whole world is watching the planet's most powerful country. If this is happening there, what moral standing would it have to censure others on democracy?
"The votes have spoken and, although Trump has the right to go to court, his effort should be channeled in a more professional and responsible manner, not wholesale denunciation of a system that WORKS and always has."
Idowu Sowunmi