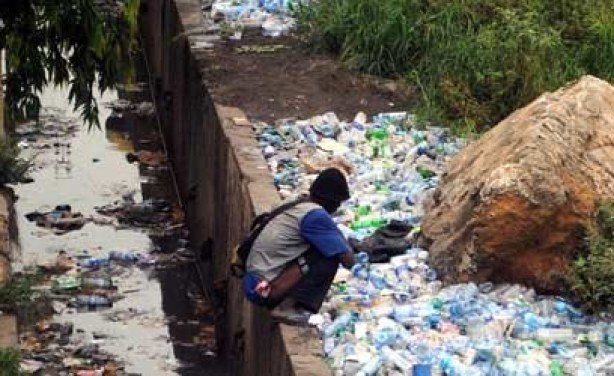 Nigeria with about 200 million people is at the risk of a national disaster that could stem from diseases associated with open defecation.
An environmental activist, Hamzat Lawal, who spoke to TVC News in Lagos on Monday stated that a situation where over 60 million people cannot access toilet facilities is dangerous.
In November 15 of 2108, the Federal Government through the Ministry for Water Resources led by Engineer Suleiman Hussein Adamu launched a strategic document for Open Defecation Free Campaign.
It is however worrisome that according to current information on the website of the United Nations Children's Fund (UNICEF) Nigeria is ranked second highest in the world with cases of open defecation.
The environmental activist stated that to avoid an uncontrollable breakout of cholera, government needs to declare a state of emergency to tackle open defecation.
Lawal said: "they need to consolidate on their effort and this is not the sole role of government alone. As much as government needs to put in place policies and regulatory framework, this presents an opportunity here."
I think we all shy away from the fact that this is shit business; we need to ensure the private sector is involved. If you look at our major cities today, they don't have mobile toilets where citizens can have access", Lawal said.
He emphasized the need for a policy roadmap that will encourage private sector investment in dealing with open defecation because government effort alone is not enough.
"I think most importantly someone has to pay the price. We need to look at the investment chain, create an enabling environment to bring in the private sector', Lawal said.
He expressed worry that many Nigerians still do not understand the health Implication of open defecation.
"Today we are experiencing cholera outbreak in most rural communities because where they defecate is the same place they have streams, which goes to the river bank and people will drink this water and use it to cook food."
Nigeria is battling with infant mortality, if we don't deal with open defecation, particularly at the grass root, especially rural communities, we will keep losing lives and value for money", Lawal said.
He also spoke on how quickly the menace of open defecation should be dealt with and meeting the 2025 target for eradicating the scourge.
"I think we need to decentralise. What I mean is that Federal Government must not only lead the effort. What are our local institutions doing, what are our state governments doing, most importantly how much is government budgeting at the local, state and national level?"
Also, how much of this budget are being released and how are civil societies able to track the effective use of public resources?"
I believe if we can effectively ensure that public resources are put to public use, then we will ensure that every citizen has access to public toilet facility."
Frontpage recalls that in 2016, during the 6th National Roundtable Conference on Community led Total sanitation, which held in Akwanga, Nasarawa State, the Ministry of Water Resources launched a campaign document titled Making Nigeria Open Defecation Free by 2025.