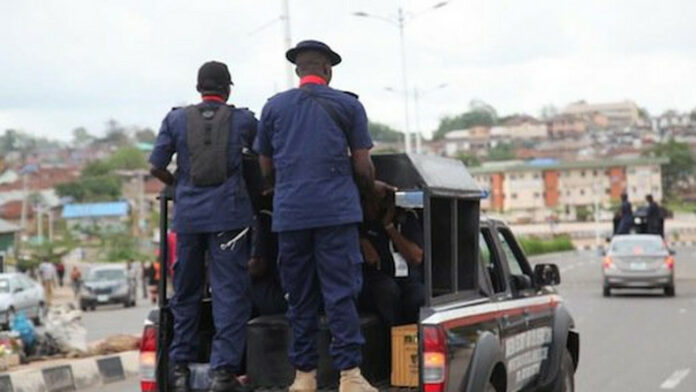 – Tobiloba Kolawole
About ten people have died in a road rage incident involving members of the Boys Brigade and an official of the Nigeria Security and Civil Defense Corp (NSCDC).
The incident, which occurred around 11:30pm on Sunday at Alheri Junction, Biu Road, Gombe State, was said to have happened after an unidentified NSCDC official, who was driving with a police friend met a company of Boys Brigade consisting members of different churches in the state.
The boys had embarked on an Easter rally, a usual procession to celebrate the death and rise of Jesus, which turned tragic this time.
It was gathered that after the NSCDC official, who was the driver rammed into the procession a mob of youths chased the car, caught up and descended on him and the police friend, beating both men to death before calm was restored.
Speaking to newsmen, the Chairman of the Gombe State Battalion Brigade of the Boys Brigade, Isaac Kwadang confirmed the incident that has led to the horrible death of about 8 young boys who were only out to celebrate the Easter festival and two other persons including the alleged raged driver and another passenger who was reported to be a police personnel.  
Kwadang said "The boys went out for a rally; this man came with his car after he was allowed passage. The man came back and this time around he even switched off his car light and went into these boys killing about 8 boys. Right now, 11 boys have multiple fractured bones. There are other 32 causalities apart from these."
There are concerns that the driver involved might have been provoked but Kwadang said:
"There was nothing. They did not do anything to him. The first time he passed, they allowed him. After he now dropped some passengers and then came back".
While speaking to news men, Chief Medical Director of the Gombe State Specialist Hospital said that dead bodies of victims were received at the hospital.
Family members of victims have besieged the hospital, where some of the injured are receiving treatment, hoping they survive.
Although, it was gathered that the angry youth have been calmed, there are palpable fears of further confrontation.