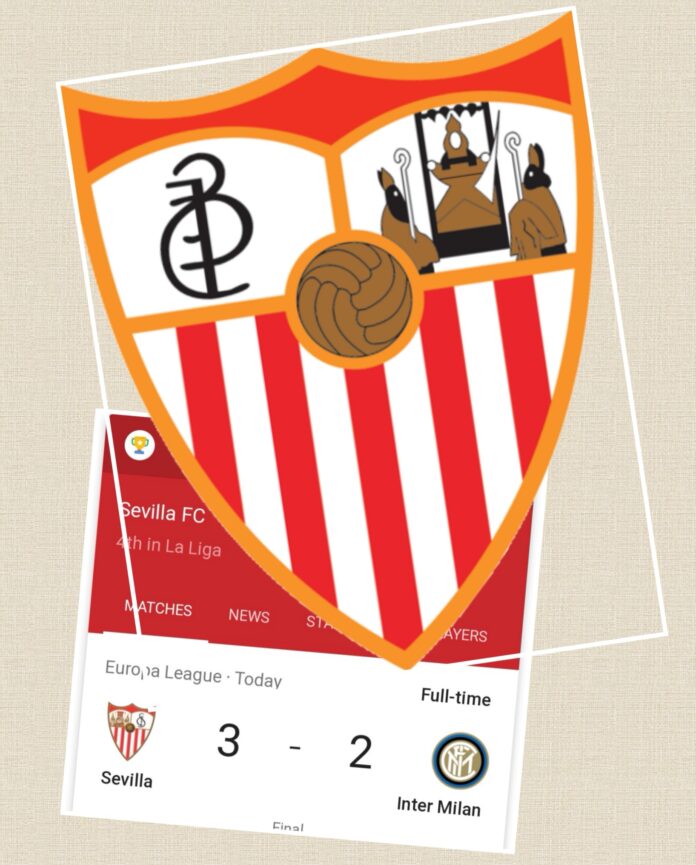 Sevilla Friday night beat Inter 3-2 to win Europa Cup for the sixth time.
With this, Sevilla would contest UEFA Super Cup against UEFA Champions League winners, Paris or Bayern, in Budapest on September 24.
Sevilla and Inter would both line up in UEFA Champions League group stage draw in Athens on October 10.
The Spanish side has again demonstrated its remarkable love affair with Europa Cup as Diego Carlos's spectacular overhead kick, deflected in by Romelu Lukaku, sealed their sixth title.
With so much on the line finals can be cagy affairs, but there was a blink-and-you'll-miss-it energy to the game from the off. A goal inside five minutes helps, of course, as Lukaku's first menacing run was brought to an abrupt halt and the in-form striker duly dispatched his spot kick.
Bayern Humiliate Barca 8-2 as Pique Says Catalan Club Needs Lots of Changes
Sevilla responded impressively, as they had to a similar setback against Manchester United in the semi-finals. Then as now Luuk de Jong did the damage, justifying his surprise inclusion in the starting XI with two well-taken headers, a diving effort preceding a towering far-post looper.
Back came Inter, Diego Godín showcasing his own aerial prowess, and while the match grew cagy Lukaku had a golden chance to make it 3-2 but, one on one with Yassine Bounou, he came off second best. Instead it was the unlikely figure of Diego Carlos who settled it, his spectacular overhead kick taking a decisive deflection off the unfortunate Lukaku on its way in.
The Dutchman had not scored in 11 before his winner against United in the semi-finals, but that was enough to convince Lopetegui to hand him a start – boy, did the gamble pay off. Not only did he nod in two sublime headers, but his general link-up and hold-up play was top notch. A strong all-round display.
On the eve of the game Inter coach Antonio Conte said he did not want his team to have any regrets after the final whistle.
After his team suffered defeat, Conte said: "I don't have many regrets now, my players gave really everything they had against a team used to playing these kinds of games. I think their experience in this sense made the difference in the end tonight."
Sevilla controlled the midfield and Inter struggled to pose much of a threat through Lukaku and Lautaro Martínez.
"This squad are great. They believe in it, what they work on and what they transmit. Even if we hadn't won I'd still love these guys, but today we take home the prize. We always believed. This team never gives up," said Sevilla coach, Julen Lopetegui.
Also speaking on the match, Sevilla defender, Diego Carlos, said: "All the players gave their best, it's marvellous. This title was very important for all of us, I'm so pleased with all that the club has done for me and I'm so happy. I'm going home with a trophy, a goal and a pregnant missus!"
To Sevilla striker, Luuk de Jong: "The coach told me this morning I was starting; I told him the other day I was always ready, and luckily it worked for me. Headers are my speciality; the first cross from [Jesús] Navas was perfect and luckily I put it inside the near post. The second one was a great ball from [Éver] Banega, and it's a special goal."
"The group deserves this. We've been fighting all season and getting over the problems that we've encountered. This is also for the fans, who deserve to wake up happy every day," said Sevilla captain, Jesús Navas.